We offer boarding 7 days a week 24 hours a day, some holidays limited.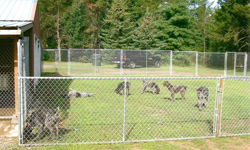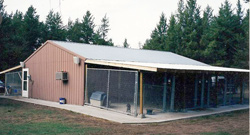 Unlike other facilities we do not charge extra for administration of medication, play time or walk time.
Again, dogs are our passion & we want to make sure your dogs stay is fun, not stressful.
Facilities include:
Heated/Air Conditioned Indoor Kennels
Satellite TV
Indoor play, including couches where your dogs can lounge with us (if they are permitted on furniture).
Escape proof kennels, specifically, German Shepherds.
If you own a German Shepherd, you know what we mean.
Chew proof kennels. We have installed heavier gauge wire so as not to allow a dog to chew through wire. Our "ELI" put us to the test on every type of kennel possible and we have accomplished escape proof & chew proof kennels through our experience with him.
Large outdoor kennel runs
Large crates indoors to accommodate large breeds
A lot of people send us their dogs for a little doggie retreat where they have fun & get a lot of exercise. For pet dogs, Don can also throw in some obedience training upon request. Our facilities are great for hunting dogs needing boarding as well. Don can also throw in a tune up before hunting season. We also offer reduced rates if you are boarding more than one dog, or for an extended length of time.
You are welcome to bring in your dog's own food, or we feed with Purina Pro Plan products.
Please call for rates 715-488-2217 and to schedule times.